Repair, Recondition, Retrofit, Routine Maintenance and Replacement of Electrical Motors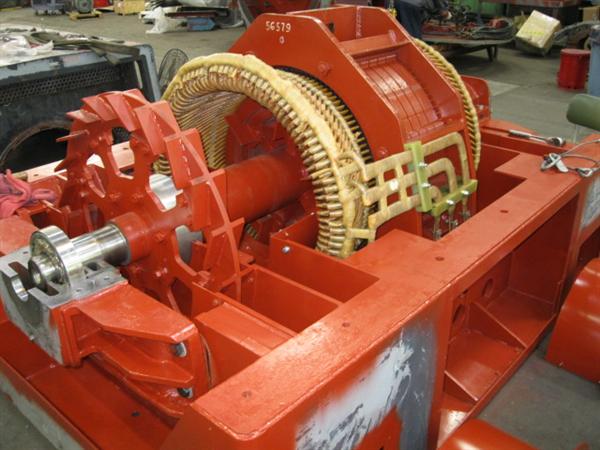 Although many people think of AIMS as a repair shop for large motors and generators, we work on specialty AC and DC motors and generators of all sizes. The majority of our repairs and rebuilds are for large industrial motors and generators up to 38,000 kW and with ratings up to 13.8 kV. We offer everything from routine maintenance and basic repairs to complete rebuilds and epoxy VPI rewinding. We also have the technical capabilities to perform root cause failure analysis of recurring or hard to diagnose problems.
Sometimes, repairs are not the best option—either due to the costs involved or the time it will take. In these instances, AIMS can provide and install new or remanufactured equipment. Through our partnerships with some of the leading manufacturers in the electrical apparatus industry, we are able to offer the most cost-effective replacement and repair solutions in the upper Midwest. Regardless of how you choose to proceed, you can count on AIMS for honest recommendations, fair pricing and quality workmanship.
We are the only authorized Actom, service center in North America, but can handle repairs on virtually any brand of motor or generator. We use OEM parts whenever possible, but can also reverse engineer and custom manufacture any parts needed. All work is covered by a 1-year parts and labor warranty.
AIMS motor/generator capabilities include:
AC stator rewinding, from 15,000 VAC, down to 230 VAC random
AC rotor rewinding of all induction rotors
Collector ring manufacturing and rebuilding
AC synchronous field rewinding, both edge-wound and layer wound poles
AC stator and rotor re-stacking
DC armature & field coil rewinding
10' diameter epoxy VPI system for all new rewinds
10' by 10' by 11' temperature controlled stripping oven with chart recorder
75 ton overhead lifting capacity, with multiple overhead cranes
Core Loss Testing utilizing 2 Lexseco computerized Core Loss Test sets
Precision dynamic balancing in 2 balancers, to ISO Grade 0.4, up to 30,000 lbs.
Surge Testing
Double power factor testing
1500 kVA Hipotronics Motor Test Center for full voltage test runs, up to 13,800 volts
60 ton isolated test bed for test runs
Vibration analysis
Laser shaft alignment
Fully-equipped in-house machine and fabrication shop
Flame spray capabilities
350-ton hydraulic press
Contact our industrial motor and generator repair specialists to learn more about our services and how we can provide you with the best maintenance value.