Complete Motor and Generator Repair Services—Throughout Wisconsin and Across the Country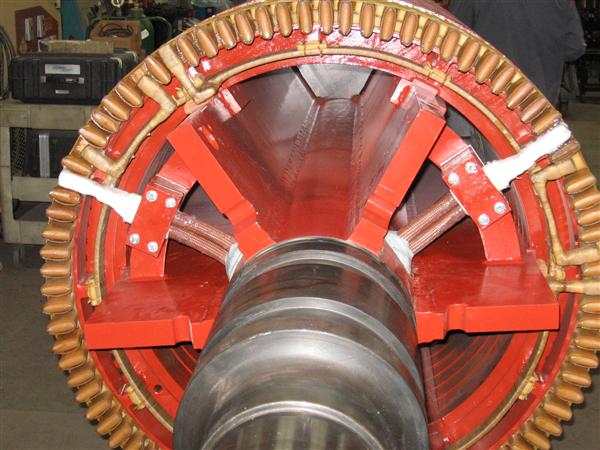 AIMS has extensive experience repairing, refurbishing and retrofitting industrial motors and generators used in manufacturing, hydroelectric power generation, wind farms, and virtually every industrial application. We can perform most repairs and refurbishing on-site or can transport your equipment to our Wisconsin facility. Every job is different, and we will recommend the solution most appropriate to restore your motor or generator to peak operating specifications.
Repairing Industrial Motors
AIMS provides a full range of AC and DC motor and generator repair services—from basic repairs to complete rewinds and even root cause failure analysis of difficult or recurring problems. We are equipped to do on-site repairs, or we can bring your equipment to our repair facility. We have our own fleet of trucks, which can transport most motors and generators. For larger equipment, we will coordinate directly with 3rd party trucking companies.
At our 60,000 square foot facility in Milwaukee we perform laser alignments, surge testing, core loss testing, vibration analysis and balancing, rewinds for AC and DC motors, winding for armature and stators, and test runs to 13,800 VAC. We are equipped with a 10' x 11' x 10' stripping oven, two large engine lathes, and a 350-ton hydraulic press. Whatever needs to be done, AIMS has the equipment and the expertise to get the job done.
Refurbishing Industrial Motors
For many businesses, replacing an older motor isn't always feasible from a financial perspective. Refurbishing offers a cost-effective alternative. With a thorough refurbishing, industrial motors can provide many years of trouble-free productivity at savings of 30% to 50% over the cost of purchasing a replacement motor.
AIMS provides comprehensive refurbishing services for large and specialty industrial motors and generators from a wide variety of manufacturers. We have a complete in-house machine and fabrication shop which enables us to custom manufacture any part which may be needed. Our engineers and technicians restore motors to original OEM specifications or better and we stand behind our work with an all-inclusive one-year parts and labor warranty.
All Refurbishing Projects Include:
On-site evaluation of your motor and formal proposal for refurbishing service
Round trip equipment transportation (if requested)
Disassembly of motor
Cleaning and repainting
Inspection of motor components
Replacing damaged parts
Rewinding and / or rebuilding motor or generator
Testing and commissioning
Follow-up to ensure satisfaction
Pickup, Delivery and Storage: Customer Service x 3
Our dedication to outstanding customer service begins before we even start on your motor repair. It starts with the way we handle all the details of getting your equipment to our facility. No matter where you are, you can have our experienced engineers and technicians handle your repair or refurbishing job. AIMS operates a fleet of trucks for transporting motors and generators to and from our facility. For equipment too large for our trucks, we make arrangements with a trusted transport service. We can also store your unit at our facility if necessary.